Q&A with the Madcap Cottage Gents
Jan 8, 2019, 16:51 PM
John Loecke and Jason Oliver Nixon are the guiding force behind Madcap Cottage, a lifestyle brand that encompasses sophisticated fun, history, whimsy and grace. In this Q&A, they talk about DIY projects and the three things they can't live without!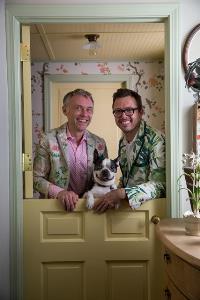 Q: What's an easy DIY project homeowners can tackle to improve their space?
Madcap Cottage
: "Switch out the pillows on your sofa, and your living room will look brand new. Paint the front door a kicky, fresh color, and add in oversized planters on either side of the door filled with large boxwoods. Install dimmer switches. And light some candles when friends come over for dinner."
Q: What was the last picture you took with your phone?
Madcap Cottage
: "We take dozens per day for our Instagram, @madcapcottage. Often, it's a snap of one of our four-pound rescue pups, Jasper, Weenie, Amy Petunia and Cecil. Or a snap of a great architectural feature."
Q: If you had to move to another country, which would you pick and why?
Madcap Cottage
: "England. We are absolute anglophiles. We lap up the history, the tradition and the charm. Plus, the English have a spirit of irony that we truly appreciate — a small farmhouse in the country with a goat named Myrtle."
Q: What's one thing we wouldn't guess about you?
Madcap Cottage
: "John is a really good singer and can shake his hips. Jason Oliver wants a disco in his basement — it's on the to-do list for 2019. Maybe John will bust out at the disco with a song-and-dance act once the disco ball starts revolving."
Q: What's a common mistake homeowners make when they take on a home improvement project themselves?
Madcap Cottage
: "They forget they have to live in the home while the renovation is taking place and end up doing dishes in the sink as weekend warriors. Tackle small projects; we tend to leave larger jobs to the professionals and project manage the work."
Q: Fill in the blank: The three things I can't live without are ______________.
Madcap Cottage
: "John: The dogs, colorful pants and books. Jason Oliver: The dogs, my garden and books."
Q: What's a must-have at any party you're throwing?
Madcap Cottage
: "Great music. Dim lighting. Cracked ice. And witty conversation. 8. What project have you been most proud to work on? Building our business; the hardest thing we have ever done."
Q: Where do you go online to find inspiration?
Madcap Cottage
: "We Google interior designers of the past and look at images of their work which we then screen capture and file away."
Q: What's one thing you wish every homeowner knew?
Madcap Cottage
: "Painting your front door a fun color will make even the ugliest home sing."
Madcap Cottage designers John and Jason Oliver appear at the Indianapolis Home Show on Wednesday, January 23 and Thursday, January 24 with design dos and don'ts, try this tricks and more!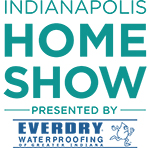 JANUARY 18-27, 2019.
INDIANA STATE FAIRGROUNDS