Swoon-Worthy Table Settings for All Occasions
Need a festive way to kick off any good celebration? Tablescapes prove that a beautiful table is more than just dishware.
Home Show attendees will get a hearty dose of tabletop inspiration from a group of local designers — Abby Hake Kellermeyer, Kate Elliott, Heather Zosso, Abby Wilkinson and Jamie Markley. From simple and stylish to elegant and elaborate, there are tablescapes on display to fit a range of styles.
One of the several tablescape designers featured at the Indianapolis Home Show is Jamie Markley. Jamie is a lifestyle blogger and boutique owner who shares all things celebrating and decorating on her Instagram account (@hoosierhomestories).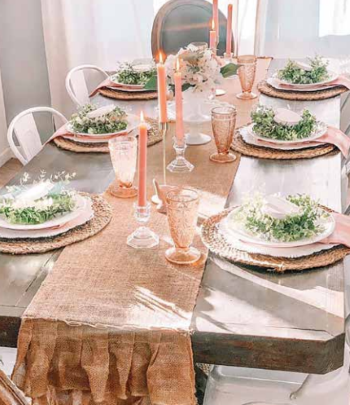 "For as long as I can remember, I've loved decorating. Even as a child, I can remember being excited about my new canopy bed," Markley said. "After I got married and my husband and I purchased our first home (a fixer upper), I really began to love and become more passionate about decorating and all things home. I love the opportunity to make people feel special and welcome in our home."
Markley creates beautiful tablespaces for many unique occasions and events. "I think being invited and sitting down to a beautiful table makes people feel so special. It also can make your home feel welcoming and inviting. When I decorate a tablescape, I get excited about the theme and details but even more about the way it will make people feel special and welcome," she said.
Tablescapes are just one of many design elements Markley includes in her décor. "I enjoy sharing and offering encouragement/ideas for all things home, decorating and celebrating," Markley said. "I especially love creating and decorating on a budget."
Jan 14, 2022, 16:00 PM